Here's our routine…
After breakfast, go to the supermarket across the street for some bottled water and whatever we forgot to get the day before that we can't do without.
Head to the Chariot for 2-3 hours of walking neighborhoods, meeting people, and inviting them to study and to evening worship service.
Eat lunch and take a break during the heat of the day, and return to the Chariot at 5, sometimes to study, sometimes to hit a few houses we might have missed in a neighborhood.
Service is from 6 to 8, then we eat a late dinner.
By the time we're finished with dinner, we're pretty beat. Then of course, at 10 or 10:30, one of us has to write a blog post.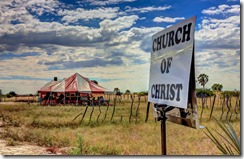 One extra thing we did this morning before leaving to walk the neighborhoods was to put up a sign. Somewhat of a makeshift sign it is, but it did the job. There were 2 signs in the back of the Chariot already, so the Chariot staff taped them to a spare music stand, and we took it out and set it by the highway. Now we're probably just as visible, but at least passers-by know who we are & why we're here.
We knew the going would be rough in an area that hadn't yet heard the Gospel. People have been friendly and receptive though, and today we had 14 studies, so business is picking up.
Let me tell you about Lena…
Lena is a very mature-for-her-age, very bright 18 year-old, and a WBS online student. She knows a lot of scripture, and wants to do her best to please the Lord. This causes problems at home, with her own dad making fun of her, and her friends rolling their eyeballs when she turns the discussion to Bible topics. She lives nearby our location, and came yesterday and studied with Charlie. This afternoon, Tommy & Bob G. had a follow-up study with her, and tonight Mike answered some more of her questions. Just as we were ready to begin services, she told Mike she was ready to be baptized. We were glad to hear that, and God has begun to provide the increase.
Posted on May 7th, 2014 by Bob Mathews
Filed under: baptism, Missions, Namibia