First day at the tent
There's always a bit or organization the first day on the campaign, and today was no different. We began the day with breakfast and a short devo. Once at the tent, we decided on a plan of attack for evangelizing the area, and getting out the word that we were here, and what exactly we were doing here.
Hurdles
We had a couple of hurdles to overcome. First, the Chariot is parked outside of town. It's not far outside of town, but it isn't where people tend to congregate – near shopping malls, schools, factories, etc. The reason for that is those who went before. This area has seen its share of "churches" who come in, scoop up significant collections of money (from many who don't have all that much to spare in the first place), then leave town. Thus, the city administrators who issue permits wouldn't issue us one, because they were wary.
Second, when we normally travel with the Chariot, there are members there who can do advance work to distribute flyers and signs, and otherwise let people know we're coming. Not so in this case; there was no prep work. Along with that is the problem of studying with someone, then after they're baptized, not being able to tell them where the church meets.
Our work today
There are some well-used paths nearby the Chariot, and 3 or 4 neighborhoods. Our first order of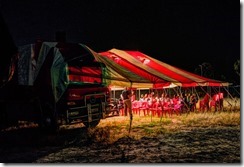 business was to walk the neighborhoods, meeting people, telling them what this big red & white tent is doing parked next to the highway, and inviting them to study during the day and to services in the evening. Our expectations for the first day's work were thus pretty low. We're well aware of what God can do though, so it wasn't surprising to be able to conduct 3 studies today, and to have 15 present for evening services (not counting us). Low numbers for sure, but considering the situation, we think it's a great start, and we thank God for the souls he brought into our path today.
Please pray…
…that we'll do the seed-planting work the is most effective, and that God will cause that seed to fall on receptive hearts.
Posted on May 6th, 2014 by Bob Mathews
Filed under: Missions, Namibia