At 2 AM this morning (8 PM CDT), Tommy, Charlie, and Bob arrived, after an aircraft maintenance delay in London. When they arrived in Windhoek Namibia, they found their flight to Ondangwa had been canceled.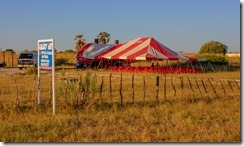 This was because there is no alliance between British Airways and Air Namibia, so BA didn't tell Air Namibia they were delayed. Therefore, when they did not show up for their flight, Air Namibia canceled their "whole itinerary" (which, fortunately, was only the round trip flight from WDH to OND). Christy contacted the travel agent and they were able to restore the return flight, so all is well.
Backing up a few hours in time, we were able to connect with the 2 brothers from Windhoek, and the Gospel Chariot team, so we are ready to begin work this morning at 10 AM. I hope to have the chance to write again this evening to update you on the work.
Posted on May 6th, 2014 by Bob Mathews
Filed under: Gospel Chariot, Missions, Namibia